Hello readers! I'm happy to be taking part in Shanah's (Bionic Book Worm) Top Five Tuesday prompts for April. For this last prompt, I'll be talking about book series that I want to start. So here goes:
The Selection by Kiera Cass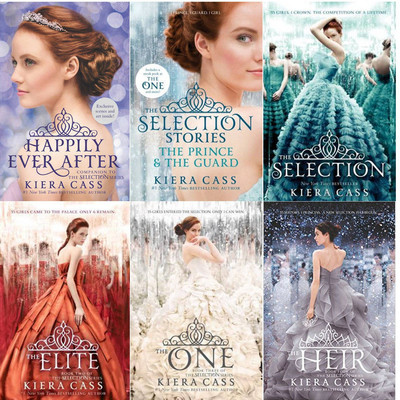 So I've been seeing this series float around more recently due to Netflix acquiring the movie rights. It's been on my TBR for the longest but now that it's coming to the big screen I think it's time to move it up my list.
The Infernal Devices/The Dark Artifices by Cassandra Clare
So I know this is technically two series, but I decided to put them together since it's in the same universe…though they're set hundreds of years apart. I started The Mortal Instruments series last year but haven't finished yet. I think I might take a break from it and start over with one of these two.
Red Rising Saga By Pierce Brown
I loved the synopsis for this series. I haven't read a lot of science fiction or dystopian books. I found that I don't like the majority of them. The Red Rising Saga might be one that I could really enjoy.
Harry Potter by J.K. Rowling
I don't think I need to say much about this. I mean, come on.
Shades of Magic by V.E. Schwab
I have heard nothing but good things when it comes to V.E. Schwab. Being that this series is a YA Fantasy, my favorite genre, it's a shock that I haven't read this series or any of her other books yet. But hopefully soon that will change.