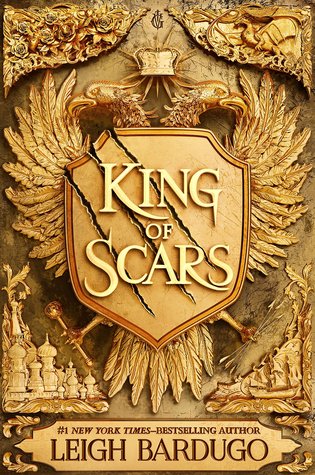 Leigh Bardugo is back and she's better than ever!
King of Scars is a gift to all of us readers who adore the Grishaverse. It brings characters from the previous series together. With that being said, it is IMPERATIVE that you read the Shadow and Bone trilogy and the Six of Crows duology before you get into KoS. You will be very lost if you don't. So, with that also being said, please beware of slight spoilers below for the previous Grishaverse books.
King of Scars takes place almost three years after the events of Ruin and Rising and six months after Crooked Kingdom. Nikolai Lantsov is the king of Ravka and trying to restore his country to its former glory. But that's hard to do as he is possessed with a lingering demon that likes to escape the palace and hunt for food late at night – a gift the Darkling left him with. With the help of his Army commander Zoya Nazyalensky and the rest of his Triumvirate, Nikolai tries to get his dark passenger under control before it takes over him. In the meantime, Nina is in Fjerda with Adrik and Leoni, trying to round up Grisha to smuggle out and save. But something isn't right. With her newfound powers, Nina senses that some Grisha are in grave danger. And she takes it upon herself to get to the bottom of it.
The characters are one of the finest parts of this book. King of Scars is told in the point of view of Nikolai, Zoya, and Nina Zenik. I love Nikolai. He is one of my favorite book royals. He's grown a bit since we saw him last, but he's still our favorite sarcasm slinging character. I loved how Leigh dove into his inner battles with himself. Though Nikolai seems like he's on top of the world, his insecurities wear down on him. There's one chapter in the book that Leigh dedicates to Nikolai's self-doubt. It's beautifully written, and we finally get to see exactly what he thinks of himself. It's sad and eye-opening and it just makes me love Nikolai even more.
I used to dislike Zoya in the Shadow and Bone trilogy, but then she grew on me. After reading KoS, she's one of my favorite characters. She also went through a much-needed growth. She's one of the strongest characters, but she hides behind her fierce and angry mask. No one knows that she harbors grief and a whole lot of fear. I respect her and I commend her for always keeping herself together. She never lets her weaknesses show and she always puts her country first.
I liked Nina's character when I read the Six of Crows duology. However, in KoS, she annoyed me. I didn't care for her plot, but I know it'll have a bigger role later on in Nikolai's second book. I found Nina to be reckless and serving her own purposes. I also felt that a small plot point occurred too soon, especially after Matthias's death in Crooked Kingdom. Her part in the story was entertaining enough, I just felt like it didn't have a place in King of Scars.
Another thing I loved was the writing and pacing. It's no secret that Leigh's dialogue is some of the best I've read. Her characters say the funniest things and it's so relatable!
"Eat, Your Highness."
"Everything tastes like doom," he whispered.
"Then add salt."
______________________
She stared at him. "Have you lost your wits entirely?"
"I'm trying to do the responsible thing. I think it's giving me indigestion."
I think her writing gets better with every book she puts out. This book was amazing! It's one of Leigh's best work yet. In my opinion, the Shadow and Bone trilogy was ok and the Six of Crows duology was great. But I could not put King of Scars down! Even though it is more than 500 pages, it NEVER drags on. There wasn't a whole lot of action until the last 20%, but the first 80% grabs your attention and holds onto it. And that cliffhanger! After that ending, I wish I would've waited to read KoS until the second part came out; I don't think I can wait until January 2020.
King of Scars was fantastic. I would recommend it to all readers who love the Grishaverse and those who may have lost faith in it. The writing is impeccable and the characters are both hilarious and heroic. The plot is captivating and leaves you wanting more. Leigh Bardugo gave us her all in this one and I'm can't wait to see what she has in store for us.
Rating: