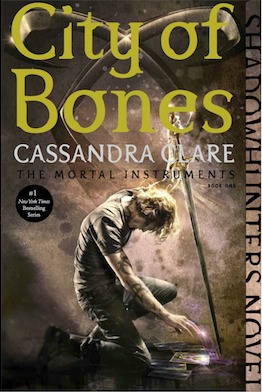 Usually, I would insert a quote from the book before I begin my review. But, unfortunately, there are no quotes in this book that would really summarize it's the plot. And that is neither bad nor good.
City of Bones introduces us to the world of the Shadowhunters, the highly trained and paranormal half-humans who are tasked with keeping the peace in the Shadow World and making sure that it is kept hidden from normal humans. Our main protagonist is Clary Fray, a teenager who sees what other humans cannot, and should not see. After witnessing a demon being killed by a trio of Shadowhunters, she is beginning to see that the world is not what it seems at all. Vampires, werewolves, mermaids, and all types of other fantasy creatures are not just part of fairy tales. They are real and roam around New York without a second look from humans. All hell breaks loose when Clary's mother, Jocelyn, goes missing. Clary isn't sure what to do or where to start, but with help from the Shadowhunter crew of The Institute and her best friend Simon, Clary begins to hunt down her mother while simultaneously learning about her mysterious past and what it means for her future.
Compared to others, I am very late to the Mortal Instruments train. I've heard so many things, good and bad, about the book and witnessed the phenomena it became back in high school. The Mortal Instruments series is the 'Series of the Year' that I chose to tackle. And I must say, I was not let down. I'll be honest, I didn't have high hopes for this book, but I also didn't think it would be horrible. Cassandra Clare did a great job in giving us a glimpse of the Shadow World. I think this book had perfect world-building. Not too much, but just enough for a reader to grasp.
The character development is also a highlight. Clary begins this story as a regular human girl with a strong personality. She doesn't back down from anyone or anything. By the end of this first installment, after all that Clary has been through, she still manages to keep her strong will and determination in order to finish what was started, which we'll see in the following books. Clary's love interest Jace was hard to love in the beginning. However, he quickly grew on me with his quick wit and banter. I would have liked the ending of this book to be different in terms of Clary and Jace's relationship. Something is revealed towards the end and throws a wrench into everything, forever changing them both.
Even though Clary and Jace are the main characters, they weren't my favorite. I thought the background characters were a lot more interesting. Characters like the hilarious Simon and the ever-charming Magnus Bane kept my attention. I wanted more of them and will be happy to see them return in the rest of the books.
I had to give this book a solid 3.75 stars. Though City of Bones is well thought out, it's pacing is very slow at times. It had a strong start but slowed down tremendously towards the second half. It then picked up at the very end, setting up City of Ashes.
I would recommend this book to anyone who enjoys YA fantasy. It's a fun read with good humor and a captivating world. I cannot wait to see what City of Ashes has in store.